Ranger carried 220lb baby elephant on his shoulders to save his life!
August 9, 2022
840

3 minutes read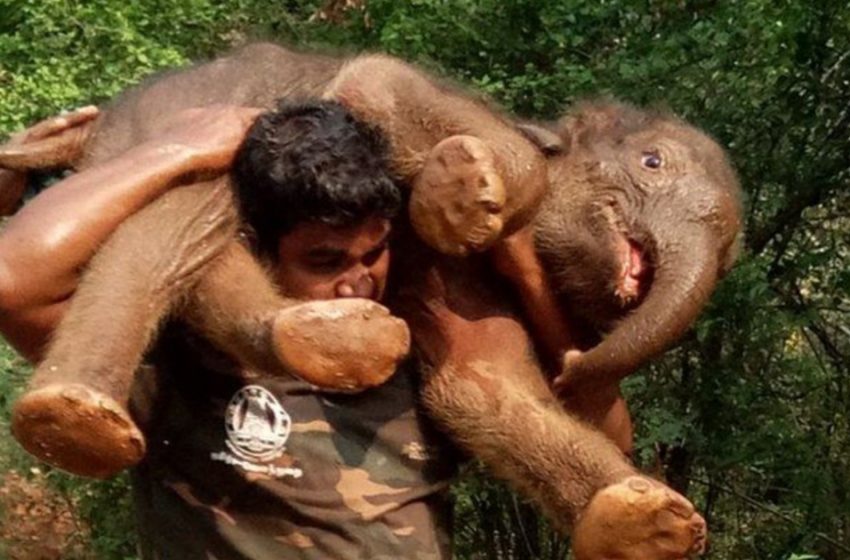 A 28-year-old ranger from Tamil Nadu, India, was returning home from a night shift when he received an urgent call. Palanichami Sarathkumar and several of his colleagues rushed to the scene. The baby elephant got stuck in a ditch and couldn't get out. The baby elephant was in distress and needed help.
As a result of their joint efforts, they were able to pull the baby elephant out of the ditch, but he was weak and could not walk.
So the man did the impossible. The ranger simply lifted the animal onto his shoulders, despite the fact that it weighed more than he did.
"The situation was so hopeless that, on the spur of the moment, I lifted the elephant without realizing that he was heavier than myself", Sarathkumar told BBC NEWS.
Sarathkumar somehow lifted the animal that weighted 220lbs on his back and took him to safety.
"Our plan was the following – to take the baby elephant into the forest to a safe place and wait for his mother to find him", the man said.
They were able to carry out their plan despite the danger of animal attacks. Thus, the baby elephant was reunited with his mother, and Sarathkumar was called a hero!
Flashback pic. Rescue of an elephant calf by a forest guard from TamilNadu made news. Mr. Palanichamy carried the half on his shoulders which had fallen into a ditch. The calf was later united with its mother. pic.twitter.com/VKqbD3hrc0

— Dipika (Goyal) Bajpai (@dipika_bajpai) April 13, 2020