Husky found seven little kittens in a forest and brought his mistress to the rescue
June 19, 2022
255

3 minutes read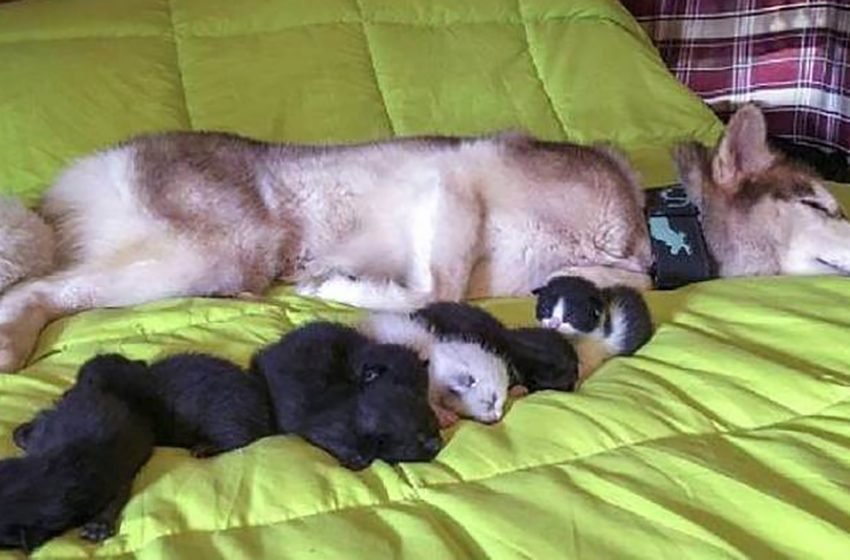 A woman named Whitney Bralee, from Menlo, Georgia is disabled. She cannot walk. It is clear that a woman cannot do all the housework, but this is not a problem in their family, as her three children and other family members and even her faithful dog help her in everything.
A three-year-old husky named Banner is a very smart and kind dog. Recently Banner ran to the mistress and began to explain something to her. The dog as if was asking the owner to follow him.
He began to bark, jumped up and grabbed Whitney by her clothes and led her somewhere.
"I immediately knew that something had happened. Banner, being a calm dog, lost control of himself, he tried in any way to explain something incomprehensible," Whitney said.
The dog led Whitney into the forest and pointed in the direction of the bushes. There was a box in the bushes. The dog poked his nose into the box and took out seven little kittens. They were newborns, very tiny and wet.
"At first I was very scared because they didn't move and were cold. But fortunately they were alive. I wonder, how did he find this box?", Whitney added.
The kittens were brought home, fed with milk through a bottle and warmed up. They were so defenseless and small. It is not known what would have happen to them if they had remained in the forest.
Although it was difficult for the woman to take care of the kittens, but she managed because her dog helped her. He lay down next to them and warmed them like his own mother would.
Husky turned into a 24-hour babysitter. He warms the babies, licks them and does not leave them alone for a minute.
Such a caring dog!