"I wore a masterpiece: Irina Shayk stepped onto the Met Gala runway in a bridesmaid's dress from the 90s
May 2, 2023
1401

3 minutes read
Irina Shayk , the renowned 37 –  year – old  supermodel, turned heads as she appeared in public donning a stunning long white dress. However, it wasn't just her attire that caught the public's attention, but also her choice of footwear  a pair of flat – soled shoes. The Met Gala, one of the most highly anticipated fashion events of the year, was held on May 2 in New York City. This year's Costume Institute ball was dedicated to the legendary fashion designer Karl Lagerfeld, who passed away in 2019.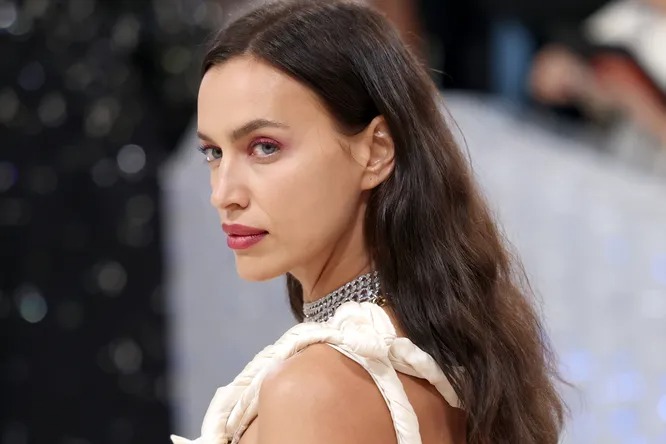 Irina Shayk, who has always made stunning appearances at the event year after year, once again flaunted an awe-inspiring look. The 37-year-old model graced the photographers with her presence, donning a gorgeous white floor – length dress. The dress was embellished with voluminous fabric roses around the neckline, adding to its overall charm. Interestingly, Irina chose to ditch the heels in favor of flat – soled shoes, a decision that may have seemed unusual but did not detract from her stunning appearance.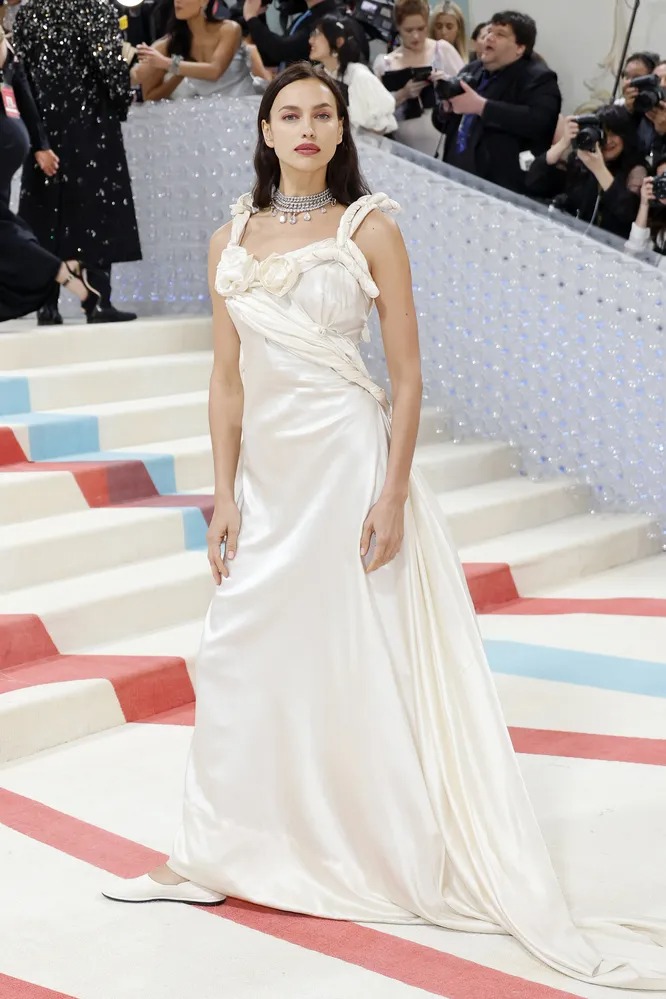 Irina Shayk, who hails from Yemazhelinsk, styled her hair loose and accessorized her neck with a strinkingly large necklace. Her burgundy – colored eye makeup complemented her overall look and drew attention to her eyes.
In her blog, Irina expressed her gratitude and honor for being able to wear a masterpiece by Yohji Yamamoto at the Met Gala. The dress, which was from the archival Spring / Summer 1998 collection, left a lasting impression on the attendees. As an admirer of Mr. Yohji's talent, Irina was ecstatic to have her dream come true and thanked his entire team for making it possible.


Irina Shayk's appearance at the Met Gala elicited mixed reactions from fans. While some praised her unique and stunning outfit, others criticized her choice of shoes and red makeup. Nevertheless, many fans admired her impeccable fashion sense, with some calling her a cutie and likening her to a princess. Some fans even expressed their desire to own the dress, which resembled a wedding or princess gown.


Prior to the Met Gala, Irina Shayk reminisced about her outfits from previous years, dating back to 2017,when she first attended the event with Bradley Cooper. Typically, Irina opted for dresses with revealing necklines and thigh-high slits. However, she broke away from this trend last year, when she appeared in an outfit that entirely concealed her body. The supermodel wore a black leather shirt, vest, tie, jacket, pants, and gloves, making a bold fashion statement on the red carpet.

Do you like the look of Irina Shayk ?